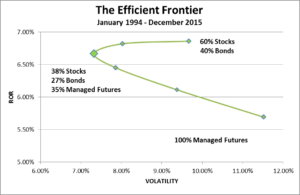 JKG is an expert in Managed Futures, an alternative investment class comprised of strategies of professional money managers that specialize in the Futures markets. Managed Futures offers two primary benefits to investors: diversification and the potential for superior risk-adjusted returns. This means that investors can improve the risk-reward, or efficiency, of their portfolios with an allocation to Managed Futures, as shown by the accompanying chart.
Further, Managed Futures tends to perform well during periods of crisis when Stocks are not performing well. This research paper provides detail on the benefits of Managed Futures during a financial crisis:
In Search of Crisis Alpha: A Short Guide to Investing in Managed Futures
The following from CME Group provides further insight into Managed Futures:
10 Reasons to Consider Managed Futures
---
For a consultation with a JKG Advisor, please contact us HERE.